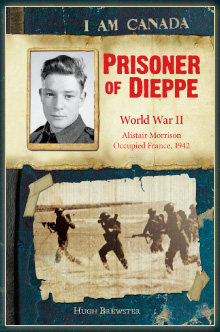 I Am Canada:
Prisoner of Dieppe
By Hugh Brewster
978-0-545-98594-9 HC
978-1-443-11928-3 EBK
232 pages
Ages 9 - 12 | 4 3/8" x 6 1/2"
Alistair "Allie" Morrison
lets his friend Mackie talk him into enlisting for WWII, even though he's only 18. After months of endless training, Allie is eager for battle. But his first action is not just any battle . . . it's the disastrous raid on the German-held port of Dieppe.
All told, almost a thousand Canadian soldiers died that day. In the resulting chaotic evacuation, Allie and Mackie are captured as POWs and sent to Stalag VIIIB in Germany. Still shell-shocked from their fighting, the soldiers struggle to maintain their courage. Some, like Mackie, are determined to plot an escape and outwit their captors, at any cost.
Award-winning author Hugh Brewster has written several war-themed books of non-fiction for children. Prisoner of Dieppe, while fictional, is inspired by a number of true accounts of the events of August 19, 1942, as told to him by men who lived through it.
"... history come(s) alive through an expert mix of fact and fiction."
-Quill & Quire, starred review
"…the chief characters are eminently likeable and quietly heroic, and their tales utterly engrossing."
-The Globe and Mail