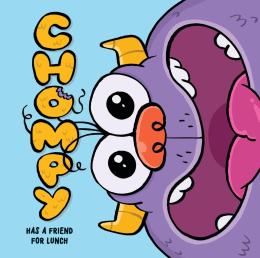 Chompy Has a Friend for Lunch: An Interactive Picture Book
Scholastic Inc. | ISBN 9781338847062 Novelty book
32 Pages | 9.038" x 9.059" | Ages 4 to 6
CAUTION: THIS BOOK BITES! Kids and parents alike will delight in this interactive picture book about a loveable monster who just wants to be your friend.
Hi! I'm Chompy! Thanks for having a playdate with me! Yes, I'm a monster. And monsters SOMETIMES eat people. But not me! I only want to be FRIENDS. And you're so FUN! Will you be my friend? But . . . what smells so delicious? GASP! Is it YOU? Uh oh . . .
Readers of all ages will enjoy this interactive, hilarious picture book featuring friendly monster Chompy. Give Chompy high-fives on fold-out pages. But what happens when Chompy smells something delicious . . . and the book becomes Chompy?! Will you let Chompy's fold-out tongue have a little lick of your elbow? What about a nibble of your nose? Keep turning the pages for a surprise ending . . . and a big fold-out hug from your newest monster friend!
This silly and sweet picture book is sure to make reading time burst with giggles, squeals, and snuggles!
Raves & reviews:
"Hyperdramatic illustrations bring Chompy to life and add layers of laughter to this wonderfully interactive story. An endearing and over-the-top funny way to turn those scary monsters under the bed into friends." -- Kirkus Reviews