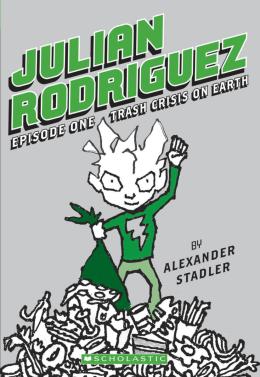 Julian Rodriguez Episode One: Trash Crisis on Earth
Scholastic Inc | ISBN 9780439919708 Paperback
128 Pages | 5.27" x 7.58" | Ages 7 to 10

First Officer Julian Rodriguez has seen his share of injustices during his time on Earth disguised as an eight-year-old boy. But this is the last straw! First he's denied his preferred midday nutrition capsule (lunch), then he's faced with a day of standardized testing at his education center (school), and an ambush by girl-bullies on his way to his home study site (home). But the greatest humiliation is yet to come, when Julian Rodriguez must face his archenemy -- a cruel, maniacal villainess (who just happens to bear an uncanny resemblance to his mother). Will our hero survive this crisis and save us all from total annihilation?