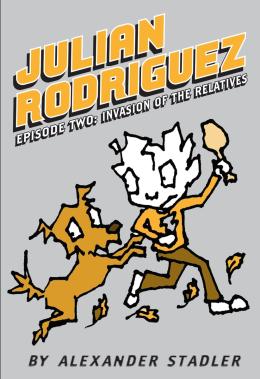 Julian Rodriguez Episode Two: Invasion of the Relatives
Scholastic Inc | ISBN 9780439919678 Hardcover
144 Pages | 5.48" x 7.85" | Ages 7 to 10

Scholastic Inc | ISBN 9780439919715 Paperback
144 Pages | 5.25" x 7.6" | Ages 7 to 10

First Officer Julian Rodriguez is facing his greatest challenge yet the invasion of his home base by a group of genetically linked mini-brains known as "the relatives." As usual, our favorite Federation warrior is subjected to numerous injustices: a temporary relocation from his bedroom to a "subterranean containment facility" (aka the basement), consumption of multiple mystery foods, and forced participation in displays of athleticism involving a pointed orb known as a football. Can our hero survive? And in the process, will he again save the mini-brains from total annihilation?