Scoubidou: A Book of Lanyard & Lacing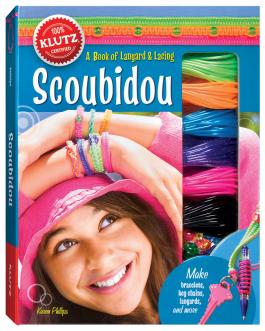 Klutz / Scholastic Canada Ltd.
ISBN: 9780545492836
Ages 8 & Up
Scoubidou: A Book of Lanyard & Lacing
A stylish craft book gets even more stylish.
When we were kids, we made "lanyards" with plastic cord that was skinny, flat, and, frankly, pretty persnickety to work with. Then, six years ago, we discovered the modern version, called scoubidou ("skoo-bee-doo"). Round, hollow, pliable, and super cooperative — it was the stuff of a perfect Klutz book. So we wrote one. Now, more than 250,000 copies later, we're ready for another upgrade — a scoubi redo, if you will.
The content hasn't changed: Scoubidou still shows beautiful ways to braid, weave, and knot the included cord. Illustrated instructions guide every step to making key chains, ponytail holders, fancified flip-flops, five different kinds of bracelets, the classic lifeguard lanyard and more. Finish your projects with the included assortment of lanyard clips, key rings, and brilliant beads.
This new edition still comes with 120 feet of cord, enough to make all 12 projects. But we've updated our colours, brightening the orange and pink and setting them off with girl-approved, stylish black scoubi. The whole package has been converted to our stackable, wrappable, boxy packaging and topped with a fresh new cover. Turns out you can improve on perfection.
Click here for more