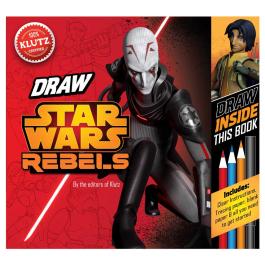 Klutz / Scholastic Canada Ltd.
ISBN: 9780545703246
Ages 8 & Up
Draw Star Wars Rebels
Learn to draw (with a little assistance from Klutz)!
In the fall of 2014, Lucasfilm and Disney launched their brand-new animated series Star Wars Rebels. Set five years before the events of Episode IV: A New Hope, the show focuses on a small band of rebels who engage in missions of sabotage and resistance against Imperial occupation (cue evil music here). This means great new stories with exciting new characters in brave new worlds. And what better way to get to know these new heroes and villains than by learning to draw them? That's where we come in.
Draw Star Wars Rebels is a complete how-to guide packed with expert tips and easy step-by-step instructions that let kids bring these exciting new Star Wars characters to life — from the irrepressible spirit of Ezra, the 14-year-old charismatic con artist who learns to fight for the greater good, to the Inquisitor, the menacing spy who tracks down Jedi survivors. Star Wars fans will get to know them from the inside out (literally) as they start with stick figures, add shapes, then insert details big and small. And there's plenty of room to draw right inside the book.
It's the first-ever drawing book for this much-anticipated new series, so getting to know these great characters and being able to draw them is just around the corner . . . not so far, far away.
Comes with: 74-page book of instructions, 8 sheets of tracing vellum, black marker, 3 double-tipped metallic-coloured pencils, mechanical pencil, eraser.
Click here for more