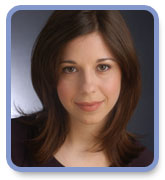 Allison van Diepen
The Bio
Allison van Diepen is the author of six teen novels: Street Pharm, Snitch, Raven, The Oracle of Dating, The Oracle Rebounds and The Vampire Stalker. Her novels have been named on the Young Adult Library Services Association's Quick Picks for Reluctant Readers list and New York City Public Library's Books for the Teen Age list.
Allison holds degrees in history and education. She is head of English at an alternative high school, where her focus is on literacy. She lives with her husband and two children in Ottawa, Canada.
The Autobio
When I was growing up, I preferred movies to books. I loved dark action films like The Terminator or quirky comedies like Pee-Wee's Big Adventure. I think my love of movies shaped my imagination. When I'm writing a book, I often see it as a movie playing in my head.
At age twelve, my sister gave me two teen thrillers as a gift. I realized that reading could actually be . . . thrilling. I devoured them and quickly read every book I could find by that author (the late John Bellairs). That's when I realized what I'm always telling my readers: Everyone is a reader if they find the right book!
It wasn't always easy to find the right books, though, so I started writing stories of my own. What could be more exciting than making up the story yourself and deciding what happens next? It wasn't long before I got hooked on writing. In fact, I'd find myself dozing in class in high school because of my late-night writing.
Around that time, I started reading romance novels. That led me to write romance stories for my friends. They would choose their favourite celebrity, and I would write up a romance between my friend and that celebrity. Like my friend Nina and Antonio Banderas, or my friend Jamie and George Clooney. I would spend hours on each one, and eventually I started charging. I kept the first two dollars I ever made and taped it into my diary.
I knew that I wanted to be a published author one day. I hoped it would happen before I was twenty—but it actually happened eight years later. During those years, I was still writing, and I also went to university, travelled and eventually became a teacher. Little did I know that teaching would set me on the path of writing teen fiction—especially once I took my first teaching job in Brooklyn.
Many of my students complained about the boring books they had to read for English class. I decided to write a book specifically for my students—a book that I hoped would entertain them and that would depict the tough challenges they faced growing up in Brooklyn. That's when I wrote Street Pharm and Snitch.
After three and half years of teaching in Brooklyn, I headed back to Ottawa where I was hired at an alternative high school. My students in Ottawa faced different issues than those in Brooklyn, but still compelling ones. Some of them struggled with family problems, addiction, mental illness. It was those issues, and the difficult truths among my own loved ones, that inspired me to write Raven.
After wading in such dark material, I wanted to do something different—something light, funny and whimsical. So I wrote The Oracle of Dating and The Oracle Rebounds, which were in large part based on my own dating experiences and those of my friends.
My latest novel, The Vampire Stalker (June 2011), is full of action, suspense and romance. The idea for the book struck me one day while I was watching the A-Ha video Take On Me on YouTube. I thought about how we all dream that our favourite characters are real. So I asked myself, "What if, somehow, the characters in a book crossed over into our world? What would happen then?"
Anyway, that's how it all began.
I'll let you know where it goes from here.
Allison