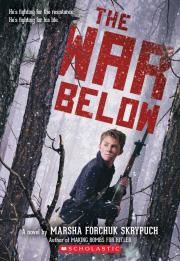 The War Below
ISBN 9781338608335 Paperback
ISBN 9781338233025 Hardcover
ISBN 9781338233032 Ebook
256 Pages | 5.244" x 7.582" | Ages 8 to 12
His escape is only the beginning.
This book was previously published under the title Underground Soldier.
The Nazis took Luka from his home in Ukraine and forced him into a labour camp. Now, Luka has smuggled himself out — even thoughbut he has left behind his dearest friend, Lida. Someday, he vows, he'll find her again.
But first, he must survive.
Racing through the mountains, Luka evades capture by both Nazis and Soviet agents. When he meets the underground Ukrainian Insurgent Army, he knows that is where he belongs: fighting Nazis and Soviets alike. But the desperate rescues and guerilla raids put Luka back in the line of fire. Can he persevere long enough to find Lida again, or to make it back home where his father must be waiting for him?
Inspired by true stories, this novel is a testament to the strength of the human spirit in the face of war.
Praise for Making Bombs for Hitler:
"A gripping story that asks: What would you do to survive?" -- Alan Gratz, author of Prisoner B-3087
"Inspired by real, historical accounts, this is a powerful, harrowing story of transformation." -- Booklist
"Skrypuch draws on real-life stories of survivors in telling Lida's poignant tale, and she creates a cast of young people who are devoted to one another in both thought and deed. . . . A well-told story of persistence, lost innocence, survival, and hope." -- Kirkus Reviews
"The story [has a strong undercurrent of friendship and loyalty; an author's note gives further background on this important piece of history." -- Publishers Weekly
"Students will admire Lida's pluck amid such heinous conditions. . . . An absorbing read about the lesser-known Ukrainian experience during World War II, this is a solid choice for curricular ties and for middle school historical fiction collections." -- School Library Journal
"Skrypuch has written a gripping, emotional novel of one Ukrainian girl's perseverance during the horrors of war. . . . This is a vivid picture of what youth experienced during World War II and the hopelessness of displaced populations of all backgrounds and religions." -- VOYA
Awards
Short-listed, Kobzar Literary Award, 2016
Commended, Best Books for Kids and Teens, Canadian Children's Book Centre, 2015
Short-listed, Geoffrey Bilson Award for Historical Fiction for Young People, 2015
Commended, Resource Links, Best of the Year, 2014
Rights Sold
English (Australia) - Scholastic Australia
English (NZ) - Scholastic New Zealand
English (US) - Scholastic Inc.
French (N. Amer.) - Éditions Scholastic
Selling Points
Historical topics of interest to today's readers
Skrypuch is an acclaimed author of award-winning historical fiction
There are few books for young readers about these little-known events of WWII
Author is a strong self-promoter on social media, in schools, bookstores and libraries