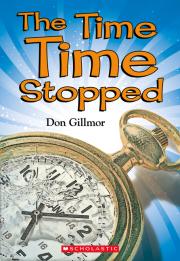 The Time Time Stopped
by Don Gillmor
ISBN 9781443102131 Paperback
160 Pages | 5.24" x 7.62" | Ages 8 to 11
An awesome adventure about a boy who makes time stop - or so he thinks.
Ten-year-old Tristan Burberry has endured many hours of unpleasantness lately. Time spent pinned under the disapproving gaze of his new teacher, time spent trudging through the mall after his older sister, and time spent sitting with the school bully on the bus. Tristan hates time. So he makes it stop. Or so he thinks...
When the world comes to a confused standstill, Tristan thinks it's his fault. In actual fact, time has stopped because the Time Keeper, who has been making time for centuries, has quit, fed up with people's lack of appreciation. Then, unfortunately, the Time Keeper gets kidnapped by the nefarious Time Bandits. Tristan, along with his sister Bella, sets out on a long and complicated journey to find him, hoping to get time back.
In the tradition of Roald Dahl, The Time Time Stopped is a funny and far-fetched adventure. With wonderful illustrations by Ashley Spires throughout, readers will love this whimsical look at one of the central preoccupations of our lives: time.
Awards
Short-listed, OLA Silver Birch Express Award, 2012
Rights Sold
English (Asia) - Scholastic Asia
Selling Points
Don Gillmor is an acclaimed author of picture books as well as books and magazine articles for adults.
The author's voice and observations of life are reminiscent of writers such as Polly Horvath, Jerry Spinelli, and Roald Dahl, even Jules Feiffer's The Phantom Tollbooth.
Both boys and girls love an adventure where a ten-year-old's real world spins into fantasy — in this case, when time stops.