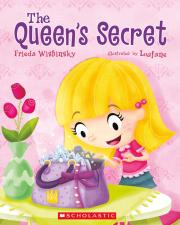 The Queen's Secret
by Frieda Wishinsky, illustrated by Loufane
ISBN 9780545986854 Hardcover
32 Pages | 8.35" x 10.25" | Ages 3 to 7
See an excerpt

Bouncy rhymes chronicle a little girl's musing as to just what exactly is inside the queen's purse.
the purse made Kay wonder
What would a queen need?
A bag full of money?
A good book to read?
Award-winning picture book author Frieda Wishinsky brings her gift of humour to this adorable tale of curious young Kay who can't help but wonder what the Queen might carry in her purse. Whimsical artwork by Loufane complements and enhances the wit and charm of this royal send-up, as Kay rhymes off all of the outrageous items that just might be contained in that mysterious purse, until — oops! — the purse springs open and Kay finds out what's really inside!
Excerpt: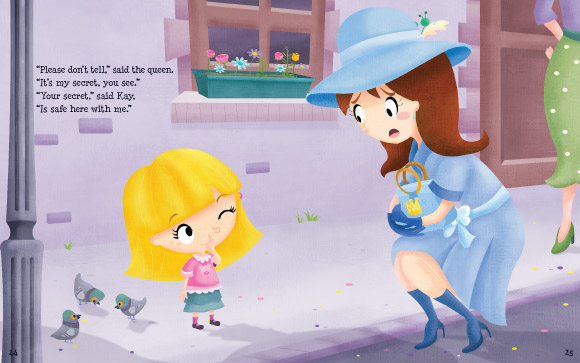 "Add this one to any stack of bedtime favourites." —Quill & Quire, starred review
Awards
Commended, Best Books for Kids and Teens, Canadian Children's Book Centre, 2011
Commended, OLA Best Bets, 2011
Rights Sold
Bulgarian - Grifin
English (Asia) - Scholastic Asia
French (N. Amer.) - Éditions Scholastic
Selling Points
Queens, like princesses, hold great appeal for young girls.
The cute, pink art will delight little girls.
The simple, rhyming text is fun to read aloud and ideal for new readers too.
Potential for curriculum use in the Arts, Language and Social Studies.