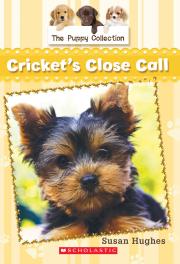 The Puppy Collection #6: Cricket's Close Call
by Susan Hughes, illustrated by Leanne Franson
ISBN 9781443133623 Paperback
96 Pages | 5.27" x 7.59" | Ages 6 to 9
See an excerpt

Meet all kinds of puppies in this sweet illustrated series, perfect for newly independent readers!
Kat, Maya, and Grace are looking after Cricket, a Yorkshire terrier puppy, when a chocolate bar disappears from Mayas backpack.
Kat knows chocolate is poisonous to dogs, and the girls are worried that Cricket may have eaten the chocolate bar. But they are also afraid to tell Aunt Jenn in case they get in trouble!
Can Kat, Maya, and Grace save Cricket in time?
Rights Sold
Czech - Albatros
English (UK) - Scholastic UK
English (US book clubs) - Scholastic Inc.
French (N. Amer.) - Éditions Scholastic
Selling Points
Adorable puppies on every cover.
Character education will appeal to teachers and parents
Fun puppy stories, complete with black & white interior illustrations of more cute puppies!
Collectible series books are in high demand with girls of this age group.