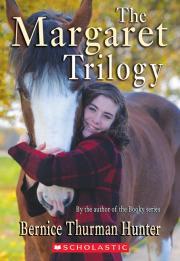 The Margaret Trilogy
by Bernice Thurman Hunter
ISBN 9781443113915 Paperback
440 Pages | 5.22" x 7.62" | Ages 9 to 14
See an excerpt

A beautiful reissue of Bernice Thurman Hunter's classic Margaret series, all in one affordable volume.
This classic trilogy of a young girl coming of age in late 1920s-era Ontario is now available in a lovely new edition. Boasting fans of all ages, these novels continue to delight new readers because of the timelessness of Margaret's story.
Through three beautiful novels — A Place for Margaret, Margaret in the Middle and Margaret On Her Way — readers delve into the life of our fearless young heroine. Join Margaret as she deals with the Great Depression, sibling rivalry and a severe illness, all while discovering beauty in the world through her newfound love of horses and the country.
A wonderful series to rediscover, and a perfect new book for lovers of historical fiction.
Praise for Bernice Thurman Hunter:
"There is no doubt that Hunter is one of Canada's best writers for young people." —Canadian Literature
Rights Sold
Selling Points
Bernice Thurman Hunter is one of Canada's best loved writers of historical fiction.
The Margaret books have sold steadily and have remained in print continuously since the first title was published in 1984 and have sold over 200,000 copies in Canada.
Perfect for anyone who loves historical fiction, as well as girls who love horses!