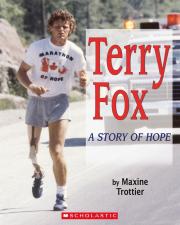 Terry Fox: A Story of Hope
ISBN 9781443102506 Paperback
40 Pages | 8.03" x 9.98" | Ages 7 to 12
See an excerpt

"Even if I don't finish, we need others to continue. It's got to keep going." -Terry Fox
Dozens of photographs and simple, evocative text combine to tell the story of Terry's life and legacy-how he grew up loving sports and competition, always determined to finish what he started; how he developed cancer and lost his leg; how he trained day after day, on one strong leg and a prosthetic limb, with the idea that he might try to run across Canada; how he managed to make it two-thirds of the way before cancer returned; and how by so doing, he inspired millions of people around the world and raised millions of dollars for cancer research.
The hardcover edition of this important book, created in cooperation with the Terry Fox Foundation and Terry's family, was the first authorized biography of Terry Fox ever written specifically for children. This new paperback edition includes eight new pages of information about Terry and his legacy.
Excerpt: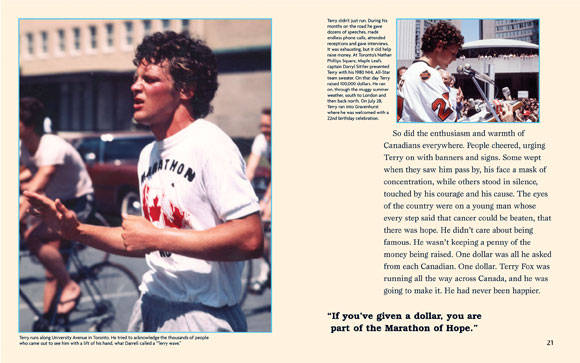 Praise for Terry Fox: A Story of Hope
"Reissued to commemorate the 30th anniversary of Terry Fox's Marathon of Hope, and as a precursor to the 2010 Terry Fox Run, this book will inspire the children of the children who watched a great Canadian's valiant journey by foot from St. John's to Thunder Bay from April 12 to Sept. 1, 1980." -The Globe and Mail
"Through an insightful mix of visual elements and an easy-to-read, chronological story, Trottier shows Terry's development from an ordinary Canadian kid with optimistic tendencies to the determined, selfless young athlete who inspired millions to do their part for cancer research. Memorabilia, photos, and quotes displayed scrapbook-style add interest and support the text." -Quill & Quire
"A 'must-purchase' title for every elementary school in Canada. Highly Recommended." -CM Magazine
"Dozens of photographs (from the Fox family archives), pictures of artifacts, a map and the easy to read text make the story accessible to a wide range of readers... a great resource for teachers to use when generating a discussion about one of Canada's best known heroes." -Canadian Teacher Magazine
Awards
Commended, Best Books for Kids and Teens, Canadian Children's Book Centre, 2011
Short-listed, Red Cedar Award (BC Young Readers' Choice), 2008
Short-listed, OLA Golden Oak Award, 2007
Short-listed, Children's Literature Roundtables of Canada, Information Book Award, 2006
Commended, Canadian Children's Book Centre, Our Choice, 2006
Short-listed, Children's Literature Roundtables of Canada, Information Book Award, 2006
Commended, OLA Best Bets, 2005
Rights Sold
French (N. Amer.) - Éditions Scholastic
Selling Points
Terry Fox is a real Canadian hero.
Every year across Canada and around the world, children participate in the Terry Fox Run to raise funds for cancer research.
A biography for young readers with images and facts including developments in the years since Terry's inspirational run, "The Marathon of Hope."
Authorized by the Terry Fox Foundation (TFF) and the Fox family, with author's royalties and a matching publisher donation going to TFF.