Scholastic Canada Biography: Meet Terry Fox
by Elizabeth MacLeod, illustrated by Mike Deas
ISBN 9781443182065 Hardcover
32 Pages | Ages 6 to 10
See an excerpt

Mark the 40th anniversary of the Marathon of Hope with Terry's remarkable story as presented in Scholastic's acclaimed biography series!
Like many kids, young Terry Fox loved sports. Baseball, track and field, volleyball. Terry was only 18 years old when he was diagnosed with bone cancer and had to have his right leg amputated above the knee. During his hospital stay he was profoundly affected by the experiences of other young cancer patients.
Terry decided to do something about it. He decided to run across Canada to raise money and awareness for cancer research. He trained hard for his "Marathon of Hope" and on April 12, 1980, Terry began, dipping his artificial leg in the waters off St. John's, Newfoundland. His plan was to run all the way across the country and as he pounded the miles, more and more people took note, cheering on the young hero -- and donating to his cause. The Marathon of Hope captured the attention and the hearts of Canadians as well as people all over the world.
Then 5753 kilometers into his run, Terry had to stop — but his inspiring legacy was just beginning.
Excerpt: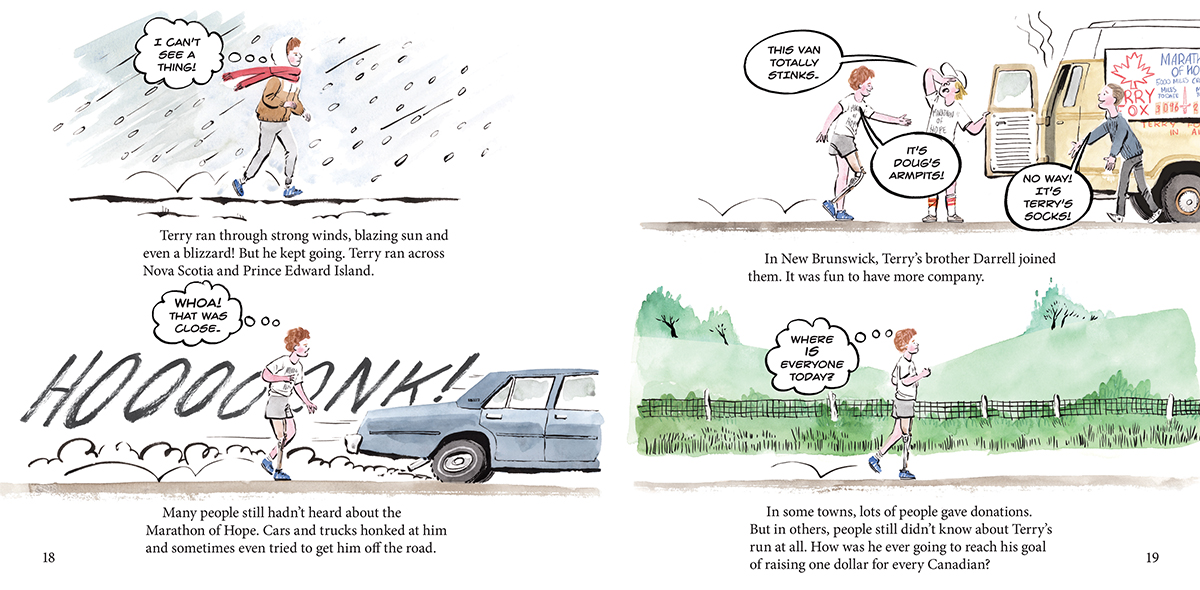 Rights Sold
French (N. Amer) - Éditions Scholastic
Selling Points
Terry Fox is one of Canada's most beloved heroes, famous around the world.
2020 marks the 40th anniversary of Terry Fox's remarkable Marathon of Hope.
The Scholastic Canada Biography is a fresh take on his story.