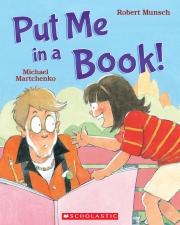 Put Me in a Book!
by Robert Munsch, illustrated by Michael Martchenko
ISBN 9781443100809 Paperback
ISBN 9781443100793 Hardcover
32 Pages | 8" x 10" | Ages 3 to 8
See an excerpt

A fresh, new look for this Must-Have Munsch story!
On their way home from a field trip, the class meets a famous writer who says he is looking for a kid to put in a book. Hailey volunteers, so the writer flattens her out, folds her up, and stuffs her in. But Hailey feels folded and scrunched and trapped and stuck, and asks the kids to get her out of the book. They try all kinds of things, but nothing works, until finally they have an idea and turn the tables on the famous writer!
Put Me in a Book! was inspired by a project that a grade two classroom in North Bay created and mailed to Robert Munsch — now they really ARE in a book!
Excerpt: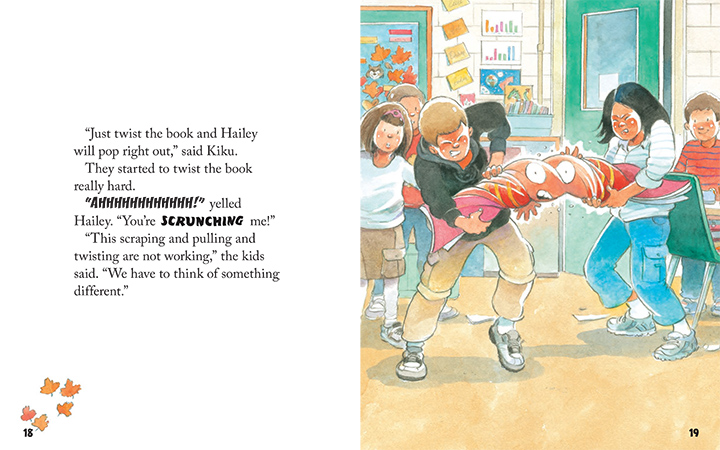 Awards
Commended, Best Books for Kids and Teens, Canadian Children's Book Centre, 2011
Commended, OLA Best Bets, 2011
Commended, Resource Links, Best of the Year, 2011
Rights Sold
Arabic - Dar El Ilm Lilmalayin
Chinese Simplified - Beijing Baby-Cube
English (US) - Scholastic Inc.
French (N. Amer.) - Éditions Scholastic
Selling Points
Every kid tells Robert Munsch to "Put me in a book!" (Well, they did up until now...)
Munsch and Martchenko are Canada's best-selling author/illustrator team. Their collaboration makes every book special.
This hilarious take on how books are created will entertain kids, parents, teachers… and writers.