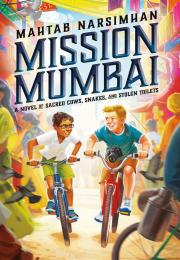 Mission Mumbai
by Mahtab Narsimhan
ISBN 9780545746519 Hardcover
ISBN 9780545746526 Ebook
272 Pages | Ages 9 to 13
See an excerpt

Two boys, one deep alliance and the trip of a lifetime.
Travel to the colorful and chaotic streets of India from the comfort of your home in this hilarious and heartfelt story about friendship and family.
When aspiring photographer Dylan Moore is invited to join his best friend, Rohit Lal, on a family trip to India, he jumps at the chance to embark on an exciting journey just like their Lord of the Rings heroes, Frodo and Sam. But each boy comes to the trip with a problem: Rohit is desperate to convince his parents not to leave him behind in Mumbai to finish school, and Dylan is desperate to stay in India to prove himself as a photographer and to avoid his parents' constant fighting. Keeping their struggles to themselves threatens to tear the boys apart. But when disaster strikes, Dylan and Rohit realize they have to set aside their differences to navigate India safely, confront their family issues, and salvage their friendship.
Awards
Commended, Resource Links, Best of the Year, 2016
Extras
Rights Sold
English (US) - Scholastic Inc.
Selling Points
A fresh and funny story about friendship, family, and identity.
Expertly combines laughably absurd situations with believably tender moments.
Flawed, relatable, loveable characters that readers of all ages will find engaging.
Colourful, evocative descriptions of India create a palpable and enticing setting.
We live in an increasingly multicultural world and our literature should reflect this.