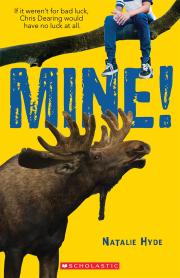 Mine!
by Natalie Hyde
ISBN 9781443146609 Paperback
ISBN 9781443146616 Ebook
240 Pages | 5.02" x 7.77" | Ages 9 to 12
See an excerpt

If it weren't for bad luck, Chris Dearing would have no luck at all.
Chris Dearing comes from a long line of losers. Bad luck has plagued the Dearing family for generations. Now his dad's about to lose everything, and Chris's only hope lies in the wild rivers of the Yukon. What is up there other than moose snot and mosquitos the size of bats? Gold! Specifically, a gold claim Chris's grandfather was swindled out of years ago.
With the help of a tough-talking biker and an ex-con muffin baker, Chris is in a race against time to claim the long-forgotten family fortune. Will he strike out like the rest of his family, or will he strike gold and finally get a chance to rewrite Dearing history?
The stakes are high and the hi-jinx even higher in this laugh-out-loud novel from acclaimed author Natalie Hyde!
Awards
Short-listed, OLA Silver Birch Award, Fiction, 2019
Commended, Best Books for Kids and Teens, Canadian Children's Book Centre, 2018
Short-listed, Red Cedar Award (BC Young Readers' Choice), 2018
Extras
Rights Sold
Kyrgyz - Kitepstan Publishing
Selling Points
An insightful look at a kid living on the margins of society due to family difficulties and social service intervention.
A road trip packed with action, adventure and humour.