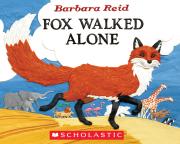 Fox Walked Alone
by Barbara Reid
ISBN 9780545989985 Paperback
32 Pages | 8.28" x 10.03" | Ages 3 to 8
See an excerpt

Have you ever wondered just how the animals got to Noah's Ark?
One morning Fox awakens sensing that something is different. He goes outside and sees a line of animals going by. Curious, he decides to tag along—not to join them, but just to watch from a distance. He is followed by a pair of ravens who comment on his strange behaviour. Along the way he meets bears, porcupines, tigers. . . and he sets free a couple of doves in a cage. The animals walk, sleep, and walk some more. Finally they come into sight of a big wooden ship—and there, outside, is a young lady fox. "You're the one I'm waiting for!" she exclaims, and they all tumble into the ark.
"The story of Noah's Ark always leaves me with lots of questions, especially about the animals. How could they fit in? Could they all get along? And most of all, why did they decide to board the Ark? I worked on the story to try to answer these questions," explains Barbara Reid. "I chose a fox to be the main character for its sly, intelligent and curious personality. It's a companion to Two by Two from the fox's viewpoint, which gave me a chance to revisit a very rich story and spend more time with some of my favourite animals."
Excerpt: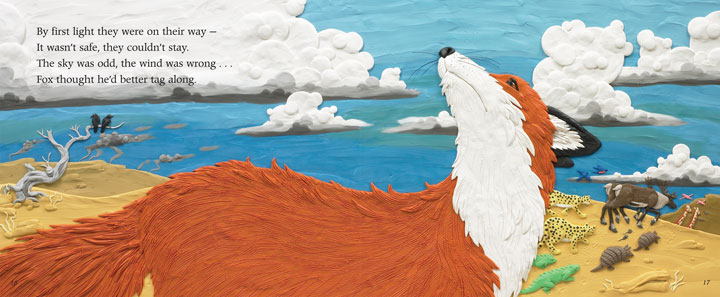 Awards
Commended, Today's Parent, 100 BEST Canadian kids' books of all time, 2015
Commended, Sydney Taylor Notable Book for Younger Readers, 2010
Short-listed, Amelia Frances Howard-Gibbon Illustrator's Award, 2007
Short-listed, Marilyn Baillie Picture Book Award, 2007
Short-listed, OLA Blue Spruce Award, 2007
Short-listed, Ruth and Sylvia Schwartz Award, 2007
Short-listed, Shining Willow Award (Saskatchewan Young Readers' Choice), 2007
Commended, Canadian Children's Book Centre, Our Choice, 2007
Commended, IBBY International Honour List, Illustration, 2007
Rights Sold
Arabic - Dar El Ilm Lilmalayin
Chinese Simplified - Huaxia
English (US) - Albert Whitman
Danish - Arvids
French (N. Amer.) - Éditions Scholastic
German - PJ Library
Indonesian - Awareness
Portuguese - Melhoramentos
Russian - AST-Press/Hobbyteka