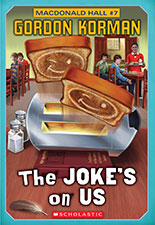 ISBN 978-1-4431-2498-0 PBK
ISBN 978-1-4431-2807-0 EBK
192 pages
Ages 9 to 12
5 ¼" x 7
5
/
8
"

"It's not spying. It's surveillance."
—Bruno Walton
The Macdonald Hall campus is under siege: a practical joker is turning the swimming-pool water blue, dressing up the statue of Sir John A., and sneaking extra soap into the dishwasher. Of course, all fingers are pointed at the usual suspects: Bruno Walton and Boots O'Neal.
But wait — these guys are innocent! And they're going to have to prove it, before they get expelled.
So who is The Phantom? Is it Mark Davies, the school newspaper editor? Edward O'Neal, Boots creepy kid brother? Or, worse yet, could it be Cathy Burton and Diane Grant, their fans and longtime supporters from Miss Scrimmage's Finishing School across the road?
They'll have to follow the clues to find out. One feather at a time.
Read an excerpt!