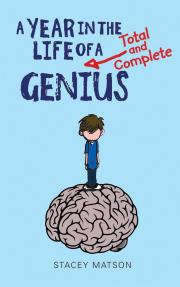 A Year in the Life of a Total and Complete Genius
ISBN 9781443133173 Hardcover
ISBN 9781443128681 Ebook
272 Pages | 5.49" x 8.7" | Ages 9 to 12
See an excerpt

Gordon Korman meets Word Nerd in this totally (and completely) genius debut!
Arthur Bean, soon-to-be a rich and famous author, has set two goals for himself: to win the school writing contest and to win the heart of his secret crush, Kennedy. But his life has had some major twists and turns lately, and the recent loss of his mother definitely complicates things.
Arthur is in turns outrageous, defiant, and unintentionally hilarious as we peek over his shoulder at his reading journals, notes from his long-suffering teachers, his offbeat articles for the school newspaper — even the emails he sends to writing partner Kennedy. A Year in the Life of a Total and Complete Genius is a fresh and funny story about a boy whose bad luck can't dampen his spirit — or his love of writing.
Praise for A Year in the Life of a Total and Complete Genius:
"At once funny, outrageous, thoughtful, and informative, this is a story with something for everyone, and Arthur's is a voice readers won't soon forget." -CM: Canadian Review of Materials
Awards
Short-listed, Manitoba Young Readers' Choice Award, 2016
Short-listed, Rocky Mountain Book Award (Alberta Children's Choice), 2016
Winner, Chocolate Lily Book Award (BC Children's Choice), 2015
Short-listed, Snow Willow Award (Saskatchewan Young Readers' Choice), 2015
Commended, Best Books for Kids and Teens, Canadian Children's Book Centre, 2015
Rights Sold
English (Asia) - Scholastic Asia
English (Australia) - Scholastic Australia
English (UK) - Andersen Press
English (US) - Sourcebooks
French (N. Amer.) - Éditions Scholastic
French World (ex. N. Amer) - Actes Sud
Portuguese - Geracao
Turkish - Epsilon
Selling Points
The first of a planned trilogy
A fresh and distinctive new voice
Appeal for fans of Jeff Kinney, Gordon Korman and Susin Nielsen
Offbeat approach using journals, emails, doodles to convey Arthur's trials and tribulations