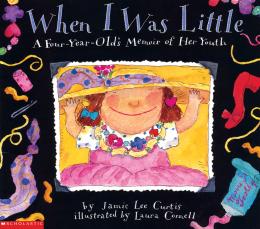 When I Was Little
Scholastic Canada Ltd | ISBN 9780590124713 Paperback
32 Pages | 9.99" x 8.73" | Ages 2 to 8

A simply wonderful celebration of the self!

This book captures a little girl's simple, childlike celebration of herself as she looks back on her life, from the lofty height of four and a half years. The book is filled with spirited views and ideas that will appeal to today's children and includes exuberant illustrations that fill each page with dozens of humourous touches.