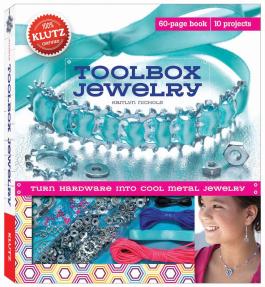 Klutz / Scholastic Canada Ltd.
ISBN: 9780545561341
Ages 8 & Up
Toolbox Jewelry
Beautiful projects give hardware a soft edge.
At Klutz, we love showing kids how to create amazing things out of everyday items. So when we noticed industrial jewelry becoming the rage with tweens, we started looking for cool materials to make into metallic, chunky bracelets. It didn't take us long — actually, the search was over as soon as we opened our trusty toolbox.
Toolbox Jewelry comes with more than 180 shiny hex nuts, star washers, fasteners, and other hardware in various sizes. Some pieces may be familiar, others not so much, but all are genuine fittings available at any well-stocked hardware store. Young designers follow the step-by-step instructions in the book to transform these practical thingamajigs into super chic — and surprisingly pretty — bracelets, necklaces, earrings, and rings.
This book comes with cord, satin ribbon, beads, and earring wires: everything you need to make all 10 projects. And the handy snap-shut blister makes it easy to corral all these supplies. Altogether, it's the perfect combination of functional and fabulous.
Click here for more