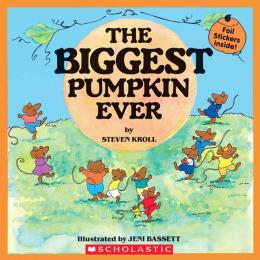 The Biggest Pumpkin Ever
Scholastic Inc | ISBN 9780439929462 Paperback
32 Pages | 8.01" x 8" | Ages 3 to 5

Once there were two mice who fell in love with the same pumpkin... Desmond the field mouse wants to carve the biggest jacko'- lantern in the neighbourhood with his pumpkin. Clayton the house mouse wants to win the Biggest Pumpkin contest with his. But when they discover that their choice pumpkins are actually the same one, Desmond and Clayton decide to work together to grow the biggest pumpkin ever! A shiny new edition of an old favourite.