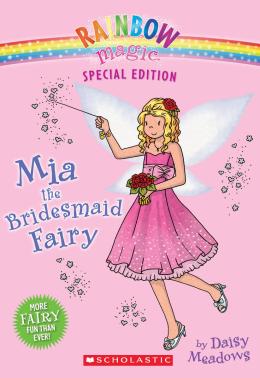 Rainbow Magic Special Edition: Mia the Bridesmaid Fairy
Scholastic Inc | ISBN 9780545202510 Paperback
176 Pages | 5.4" x 7.4" | Ages 6 to 9
Help save the wedding magic in this sweet fairy adventure!
There's trouble in Fairyland again-and Jack Frost is behind it! This time, he's stolen Mia the Bridesmaid Fairy's three magical objects. Without them, she can't make sure that all weddings end happily ever after!
When Mia asks Rachel and Kirsty for help, they promise to do their best. But can they save the day again? Or will the wedding magic be lost...forever?