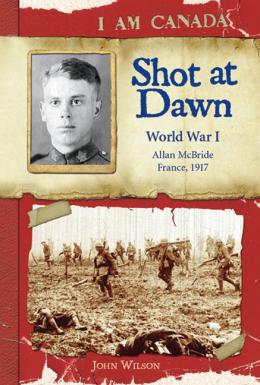 I Am Canada: Shot at Dawn: World War I, Allan McBride, France, 1917
Scholastic Canada Ltd | ISBN 9781443119290 Ebook
208 Pages | Ages 9 to 12
Scholastic Canada Ltd | ISBN 9780545985956 Hardcover
208 Pages | 4.74" x 6.79" | Ages 9 to 12
Sentenced to death for abandoning his unit, a soldier recounts the events leading up to his arrest.
The reality of trench warfare is a shock to Allan McBride. Like many other young soldiers, he enthusiastically signed up for the chance to join the war effort and be a part of the fighting. But after months in the ravaged battlefields, watching men, including his friend Ken, get blown up by German shelling, something in Allan snaps and he leaves his unit, believing he is "walking home to Canada" to get help for his friend.
After nearly a week of wandering aimlessly, Allan is taken in by a band of real deserters — men who have abandoned their units and live on the edge of survival in the woods of northern France. Once Allan realizes what he's done, he is paralyzed by the reality of his circumstance: if he stays with these men, it's possible they will be found and have to face the consequences; and if he returns to his unit, he will be charged with desertion — a charge punishable by death.
In this outstanding new title in the I Am Canada series, acclaimed author John Wilson explores life in the horrific trenches of WWI and the effect of battle on a shell-shocked soldier.