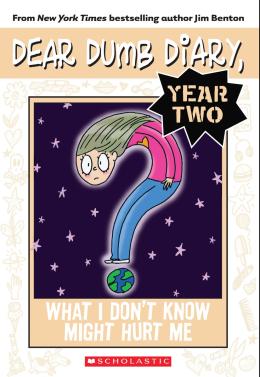 Dear Dumb Diary Year Two #4: What I Don't Know Might Hurt Me
Scholastic Inc | ISBN 9780545377652 Paperback
144 Pages | 5.27" x 7.59" | Ages 8 to 12
Bestselling author Jim Benton is back, continuing a new spin on a favourite series!
Dear Dumb Diary,
Before school, Isabella had me fix her hair in the girls' bathroom. Her hair really is quite beautiful. It's black and thick and glossy, like the majestic hair on a lion if that was black.
She had a test later, and she had written the answers on a slice of baloney in the sandwich she brought for lunch. If the teacher saw her, she could just eat the sandwich and destroy the evidence. But she wasn't thinking, and accidentally ate her lunch while I was doing her hair. Beauty can really make you hungry.
While she was wiping the ink off her lips, I explained why cheating is wrong. We have a test in math next week, and I encouraged her to pack a lunch you can't write on. If she brings peanut butter and jelly, I'll know I got through to her.
The bestselling Dear Dumb Diary series is a hilarious hit! Now Jamie Kelly's diaries have a fresh look and a fun twist. Dear Dumb Diary Year Two is still laugh-out-loud funny - but everything is another year dumber!
Raves & reviews:
Praise for Dear Dumb Diary
"Benton has a gift for writing Jamie's voice exactly like the girl you'd want sitting next to you in class, whispering terrible comments." -Kids Book Central
"Benton is a genius at expressing a believable preteen girl worldview without silly vernacular or dumbing down to his audience." -KidsReads.com