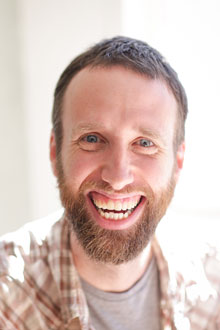 Mike Deas
Mike Deas loved drawing as a child and devoured comics such as Asterix and Obilix, Tintin, Calvin and Hobbes and Mad Magazine. He almost always had his sights set on being a visual artist or cartoonist. Luckily, growing up on Salt Spring Island with a rich artist tradition, he had a lot of support from his family and community.
Mike earned a spot in the commercial animation program at Capilano Collage and found himself surrounded by amazing talent. "It really pushed me to refine my own skills. I still keep in touch and follow my classmates' careers," he says.
His own creative process focuses on the big picture first then moves forward to the smallest details. But Mike continues to make an effort to explore new ideas, "I have found the more time spent drawing, the more I improve and the more I discover there is to learn," he admits.
After working in the video game industry for a couple years, he realized he wanted to work on his own projects — controlling the final outcome, while still doing hands-on creation. It was at that point that Mike realized that illustration was right for him.
He has illustrated many books over the last 10 years, including the Tank & Fizz series. He is currently writing and illustrating his own graphic novel series. The Scholastic Canada Biography series has been hugely successful in large part thanks to the unique comic-style look Mike brings to each and every story.
Aside from writing and illustrating, Mike owns and works on his classic car, a 1960 Chevy Bel-Air, and enjoys hiking and camping as well as reading. He lives with his wife and two young daughters on Salt Spring Island, BC.