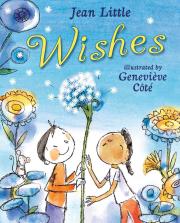 Wishes
by Jean Little, illustrated by Geneviève Côté
ISBN 9781443107723 Hardcover
32 Pages | 8.5" x 10.5" | Ages 3 to 8
See an excerpt

Make a wish and the sky's the limit in this delightful rhyming story from the incomparable Jean Little.
If wishes were ice cream, our cones would be doubles.
If wishes were soapsuds, we'd blow shining bubbles.
In this charming new picture book, children and their wild imaginations take centre stage! In a true celebration of wishers and dreamers, Jean Little entertains readers with bouncy rhymes depicting kids' favourite wishes — from puppies to pancakes; and sundaes to snowflakes.
Governor General's award-winning Canadian illustrator Geneviève Côté infuses each page with her inventive illustrations, literally turning each spread into a carnival of fun!
If wishes were stories, there would only be one — this one!
Excerpt: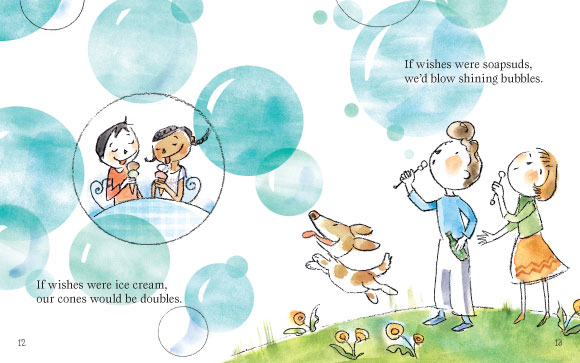 Praise for Wishes:
"[Wishes] celebrates fun and freedom . . . Cote's watercolour images are energetic and gleeful, and give Little's text room to resonate." —Quill & Quire
"The melody of this text will encourage readers to read this book over and over again for the sheer pleasure of feeling the words tumble over their tongues while the illustrations will charm them with the possibilities available in the fantasy world of wishes. Wishes is a truly delightful piece to share with children." —CM Magazine
"Whimsical desires, heartfelt hopes and crazy dreams — cashed in as wishes — are celebrated in Guelph author Jean Little's new book . . . This book makes a lovely gift for children" —The Guelph Mercury
"An entertaining romp celebrating the dreams and desires of young people . . . readers will be attracted to the energy and detail on every page." —Canadian Children's Book News
"This book is sure to delight children . . . The colourful illustrations intuitively speak to a child's world and a child's imagination and provide entertainment as well as a thoought provoking forum for personal connection." —Resource Links
"The rhyming format make the book a pleasure both to read and to listen to, and suits the dream-like quality of the words. The illustrations are equally fantastical. Featuring whimsical images of children and things, the colours used are soft, but the pictures are full of surprising details." —momstown.ca
Awards
Commended, Today's Parent, 100 BEST Canadian kids' books of all time, 2015
Short-listed, Rainforest of Reading Award, 2013
Short-listed, Ruth and Sylvia Schwartz Award, 2013
Commended, Best Books for Kids and Teens, Canadian Children's Book Centre, 2013
Commended, OLA Best Bets, 2013
Rights Sold
French (N. Amer.) - Éditions Scholastic
Selling Points
'
Jean Little is a prolific and award-winning author who is beloved across generations for her classic books.
Geneviève Coté is a star illustrator with an warm, whimsical style.
Family, sharing and togetherness are strong threads in this story.