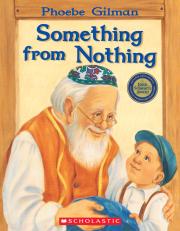 Something from Nothing
ISBN 9781443119467 Paperback
32 Pages | 7.77" x 11.26" | Ages 5 to 8
See an excerpt

Phoebe Gilman's beloved classic celebrates its 20th anniversary!
Joseph's grandfather made him a beautiful blanket when he was a baby, but now it's frazzled and worn, and Joseph's mother says it is time to throw it out. Joseph doesn't want to part with his special blanket, and he's sure that his grandfather can fix it. Sure enough, Grandfather miraculously alters the blanket into useful items again and again. But when Joseph loses the final item, even Grandfather can't make something from nothing. But maybe Joseph can?
Based on the Yiddish folktale "Joseph's overcoat," Phoebe Gilman's gorgeous artwork charts the transformation of the blanket and the progress of Joseph's family through the years, subtly teaching young readers about a lost way of life.
Excerpt: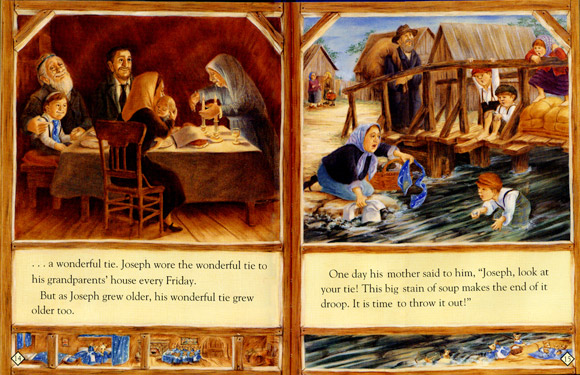 Awards
Commended, Best Books for Kids and Teens, Canadian Children's Book Centre, 2008
Short-listed, Utah Children's Picture Book Award, 1995
Commended, Antigo Sugar Maple Award, 1995
Commended, Canadian Materials Best of the Year List, 1994
Commended, White Ravens Selection (International Youth Library), 1994
Winner, Ruth and Sylvia Schwartz Award, 1993
Winner, Sydney Taylor Notable Book for Younger Readers, 1993
Commended, American Bookseller Magazine's "Pick of the List", 1993
Short-listed, Mr. Christie's Book Award, 1992
Commended, Canadian Children's Book Centre, Our Choice, 1992
Commended, Canadian Library Association, Notable, 1992
Rights Sold
Chinese Complex - Hsinex
Chinese Simplified - Hsinex
English (Asia ex. Korea) - Scholastic Asia
English (Korea) - JY Books
French (N. Amer.) - Éditions Scholastic
Hebrew - Miskal
Japanese - Fukuinkan Shoten
Korean - Benedict Press
Polish -Wydawnictwo MODO
Portuguese - Caramelo
Spanish (US) - Lectorum
Selling Points
A perennial favourite and bestseller
The kind of book that people buy several copies of, to give as gifts!
The shtetl setting resonates with the Jewish market, but the universality and charm of the story give it broad appeal as well.
Nine foreign language editions to date as well as an animated film adaptation.