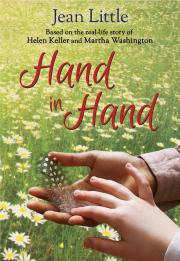 Hand in Hand
by Jean Little
ISBN 9781443139236 Paperback
ISBN 9781443146937 Ebook
128 Pages | Ages 7 to 10
See an excerpt

Based on the real-life story of Helen Keller and the servant girl Martha Washington!
"How can you make friends with somebody who doesn't hear what you say or see things you try to show her? I do what she wants, Mama, but she is always the boss. Being friends is different."
Martha is Helen Keller's constant companion — the one who communicates with her best. But it's not easy keeping Helen out of trouble. Her parents let her do as she pleases, and Martha finds herself sometimes bullied, sometimes a partner in mischief, sometimes a rescuer... and always a servant. Can two such different girls ever really be friends — and what will happen when the new teacher comes?
Helen Keller mentions Martha Washington, the cook's daughter in her autobiography. Renowned novelist Jean Little builds on these references to create a compelling story of a special relationship: two young girls making their way through the world, hand in hand.
Praise for Jean Little
"Jean Little has again created realistic characters whose interactions make this a touching story with which children will readily identify." (From Anna) —School Library Journal
Awards
Short-listed, Diamond Willow Award (Saskatchewan Young Readers' Choice), 2017
Rights Sold
Selling Points
Jean writes underdog stories better, and more believably, than any other author!
The idea of a story about Helen Keller, written by an author who is herself blind, will resonate with readers and booksellers alike.
Unique perspective on the Helen Keller story by tying in her companion Martha, who was a servant girl and mostly unknown.
Appealing black and white illustrations help convey the two little girls' relationship with warmth and compassion.