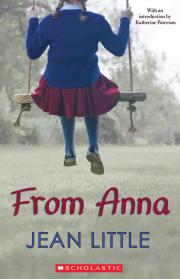 From Anna
by Jean Little, Preface by Katherine Paterson, illustrated by Joan Sandin
ISBN 9781443113427 Paperback
ISBN 9781443119740 Ebook
224 Pages | 5" x 7.7" | Ages 8 to 12
See an excerpt

Jean Little's classic celebrates its 40th anniversary with a new look for a new generation!
Nine-year-old Anna has always been the clumsy one in the family — somehow she can never do anything right. She bumps into tables, and she can't read the chalkboard at school. Her perfect brothers and sisters call her "Awkward Anna."
When Papa announces that the family is moving from Germany to Canada — he's worried about what the Nazis' rise to power will bring — Anna's heart sinks. How can she learn English when she can't even read German properly?
But when the Soldens arrive in Canada, Anna learns that there is a reason for her clumsiness. And suddenly, wonderfully, her whole world begins to change, especially when new friends at her special school help her stand up to bullies who call her names.
A truly heartwarming story, From Anna will resonate with any child who has ever felt left out. This 40th anniversary edition includes an Introduction by Katherine Paterson and Afterword by Jean Little herself.
Awards
Commended, Today's Parent, 100 BEST Canadian kids' books of all time, 2015
Short-listed, Rocky Mountain Book Award (Alberta Children's Choice), 2014
Commended, Best Books for Kids and Teens, Canadian Children's Book Centre, 2013
Commended, Resource Links, Best of the Year, 2013
Rights Sold
Chinese Simplified - Beijing Publishing Group
Portuguese - Melhoramentos
Russian - Labrint
Vietnamese - Nhanam
Selling Points
Beautiful 40th anniversary edition with bright photographic cover.
Includes a new introduction by Katherine Paterson (author of Bridge to Terabithia).
Little is an internationally acclaimed author and From Anna is her most enduring and popular book.
Little writes "underdog" stories better, and more believably, than anyone else. Any child who has ever felt left out will find a kindred spirit in Anna.