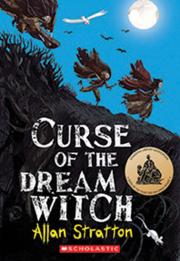 Curse of the Dream Witch
ISBN 9781443119375 Paperback
ISBN 9781443128490 Ebook
280 Pages | 5.23" x 7.63" | Ages 9 to 13
See an excerpt

An exhilarating fairytale adventure from the author of the Governor General's Award nominated The Grave Robber's Apprentice.
The Dream Witch haunts the forest beyond the kingdom of Bellumen, waiting to collect on a horrible debt owed by the king and queen — the heart of their only daughter, Princess Olivia. Until she has it, none of the kingdom's children are safe.
As Olivia's thirteenth birthday approaches and the witch's deadline draws near, her desperate mother seeks help from Prince Leo of neighbouring Pretonia. But the treacherous prince seizes their castle instead, determined to marry Olivia and take over the kingdom.
So Olivia makes a daring escape from the castle, two friends by her side: the peasant boy Milo and a curious talking mouse with a surprising past. Together, the friends face certain danger and fantastical adversaries to save their families and rescue a kingdom.
Praise for Curse of the Dream Witch:
"Curse of the Dream Witch does more than teach about perseverance and self-respect and caring for others...: it entertains with humour, irreverence and surrealistic repugnance, without the violence." — CanLit for Little Canadians
"The Dream Witch is a splendidly wicked and shrewd villain, while Milo and Princess Olivia are courageous and truly likeable protagonists… The fast-pace and fairy tale atmosphere will appeal to any reader who enjoys a deliciously dark fantasy… Readers will relish the bravery, friendship and imaginative details found in this irreverent story." — Jury Citation, Monica Hughes Award for Science Fiction and Fantasy
"We all delighted in the twists and turns of the story, and the feeling of a classic, timeless fairy tale that he writes so well…This story will find appeal outside of the target audience as a read-aloud tale for young and old, with plenty of adventure and excitement to keep all readers on the edge of their seats." — Jury Citation, Canadian Library Association Book Award.
"This novel was truly chilling: there were many moments where even I felt uneasy. As the Dream Witch deals in both dreams and nightmares, she makes sure to use her full power to catch the two protagonists of the novel: Princess Olivia and Milo. I would recommend this book to anyone who is in need of a chilling, well written and scary action adventure novel." — Resource Links

Praise for The Grave Robber's Apprentice:
Shortlist, Governor General's Literary Award, 2012
Honour Book, CLA Book of the Year for Children, 2012
Nominee, Ruth and Sylvia Schwartz Award, 2013
Nominee, OLA Silver Birch Award, 2013
OLA Best Bets, 2012
CCBC Best Books for Kids and Teens, 2012
"A rollicking and enchanting fairy tale for the 21st century." —Kenneth Oppel, author of Half Brother and the Silverwing Saga
*"Arch, winning fantasy. The Grave Robber's Apprentice is funny, imaginative, just thrilling enough, and doesn't take itself too seriously." —Quill & Quire, starred review
"A classic adventure story . . . This clever tale hits all the right notes." —Publishers Weekly
Awards
Short-listed, Rocky Mountain Book Award (Alberta Children's Choice), 2015
Short-listed, Diamond Willow Award (Saskatchewan Young Readers' Choice), 2015
Winner, Canadian Library Association Book of the Year for Children, 2014
Short-listed, OLA Silver Birch Award, Fiction, 2014
Short-listed, Red Cedar Award (BC Young Readers' Choice), 2014
Short-listed, Monica Hughes Award for Science Fiction and Fantasy, 2014
Commended, Best Books for Kids and Teens, Canadian Children's Book Centre, 2014
Commended, Resource Links, Best of the Year, 2013
Extras
Rights Sold
Chinese Simplified - Beijing Publishing Group
English (UK ex. Commonwealth) - Faber
French - Bayard
Selling Points
Award-winning author with a great international presence
Fast-moving tale with a strong female heroine
Fairy tale theme is popular in television shows, movies and books