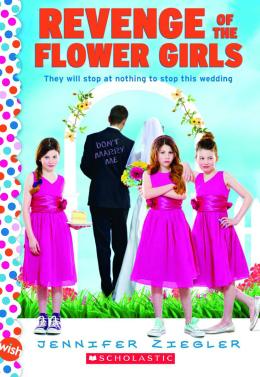 Revenge of the Flower Girls (A WISH Book)
Scholastic Inc | ISBN 9780545561426 Paperback
240 Pages | 5.24" x 7.59" | Ages 8 to 12
Our WISH series is full of sweet, tween reads featuring old favourites and brand new stories to fall in love with!
One bride. Two boys. Three flower girls who won't hold their peace. What could go wrong with this wedding? Everything!
The Brewster triplets, Dawn, Darby, and Delaney, would usually spend their summer eating ice cream, playing with their dog, and reading about the U.S. presidents. But this year they're stuck helping their big sister, Lily, plan her wedding. Burton, Lily's groom-to-be, is not nice or fun, and he looks like an armadillo.
The triplets can't stand to see Lily marry someone so wrong for her, so they'll stop at nothing to delay Lily's big day. But will sprinklers, a photo slideshow, a muddy dog, and some unexpected allies be enough to prevent their sister and the whole Brewster family from living unhappily ever after?