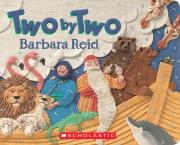 Two by Two
by Barbara Reid
ISBN 9781443133043 Board book
30 Pages | 5.81" x 7.04" | Ages 0 to 3
See an excerpt

"All aboard!" cried Noah, "Shut the door!"
And down came the rain as never before.

To save his family from the big flood, Noah builds a boat. It has to be HUGE, because two of every animal are coming to stay... for forty days and nights. First in a trickle, then in a flood, animals of every colour and kind make their way into the hold. Bees and boas, camels and cats, every pair finds a place in these pages. No ark since Noah's own has shown such colour and diversity of life as that of Barbara Reid!
Excerpt: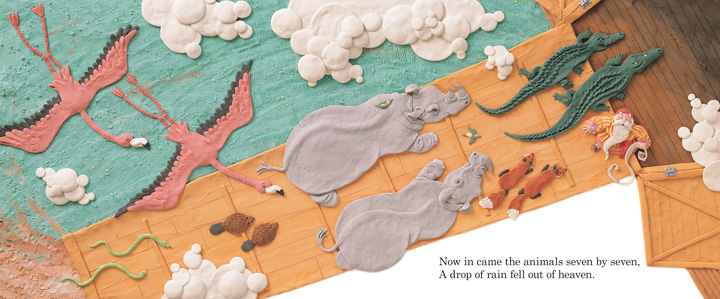 Winner, Elizabeth Mrazik-Cleaver Canadian Picture Book Award
Finalist, Ruth Schwartz Award
Finalist, Mr. Christie's Book Award
Awards
Commended, Best Books for Kids and Teens, Canadian Children's Book Centre, Starred Selection, 2015
Short-listed, Tiny Torgi Audio Award, 1994
Commended, American Library Association, Notable, 1994
Winner, Elizabeth Mrazik-Cleaver Canadian Picture Book Award, 1993
Commended, White Ravens Selection (International Youth Library), 1993
Short-listed, Mr. Christie's Book Award, 1992
Short-listed, Ruth and Sylvia Schwartz Award, 1992
Commended, Canadian Children's Book Centre, Our Choice, 1992
Commended, Canadian Library Association, Notable, 1992
Rights Sold
French (N. Amer.) - Éditions Scholastic
Indonesian - Awareness
Korean - Sakyejul
Selling Points
A perfect introduction to the story of Noah's ark, with a counting element
Plasticine animals are paired with new lyrics for the song "Who Built the Ark?"
This is a new format for Reid's award-winning classic, joining her other bestselling board books
Reid is one of Canada's most honoured and recognized picture book creators