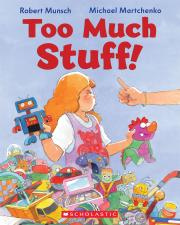 Too Much Stuff!
by Robert Munsch, illustrated by Michael Martchenko
ISBN 9781443102452 Paperback
ISBN 9781443102445 Hardcover
32 Pages | Ages 3 to 8
See an excerpt

A classic Munsch tale with a fresh new look!
Temina is excited about taking a trip on an airplane, and super-excited to include ALL of her toys and dolls on the trip as well.
Until mom says: "You can bring just ONE doll."
Impossible! How is she going to pick just ONE?
The answer is, she doesn't. Temina hatches a top secret plan to bring the toys onto the plane right under her mother's nose. Once everyone is safely aboard the plane, Temina opens her bag and out pop all her travelling companions. Word spreads quickly to other children on the plane, who feel lonely without their own dolls. Temina is happy to lend out her treasures, and saves the day. Her good deed is felt all across the globe and her generosity is rewarded in the most surprising way!
Excerpt: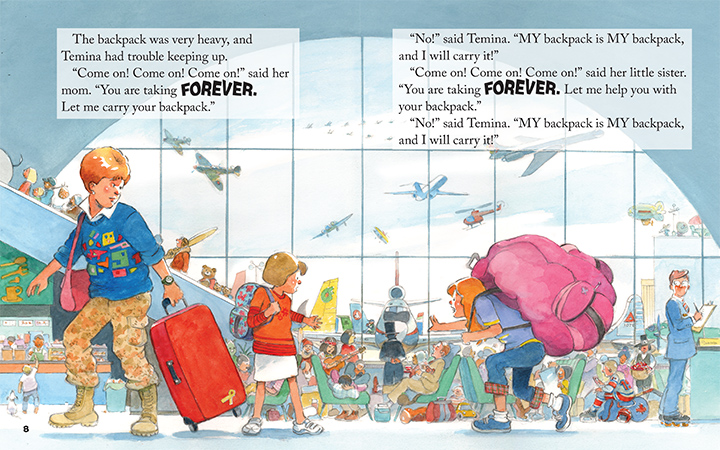 Awards
Commended, Best Books for Kids and Teens, Canadian Children's Book Centre, 2011
Rights Sold
Arabic - Dar El Ilm Lilmalayin
Chinese Simplified - Beijing Baby-Cube
French (N. Amer.) - Éditions Scholastic
Italian - Editrice Il Castoro
Selling Points
Anyone who has had to figure out what to pack for a flight will appreciate Temina's dilemma.
Munsch and Martchenko are Canada's best-selling author/illustrator team. Their collaboration makes every book special.