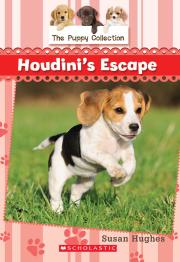 The Puppy Collection #7: Houdini's Escape
by Susan Hughes, illustrated by Leanne Franson
ISBN 9781443146500 Paperback
ISBN 9781443148030 Ebook
96 Pages | 5.28" x 7.61" | Ages 6 to 9
See an excerpt

Can Kat, Maya and Grace keep Houdini out of trouble?
When Aunt Jenn asks Kat, Maya and Grace to help her care for a little mischievous beagle pup named Houdini, the girls don't know the trouble they're in for. True to his name, Houdini somehow manages to escape from his kennel the very first time they come to play with him!
Houdini proves to be a master escape artist, and though the girls foil a couple of his attempts to get away, it's not long before he manages to sneak away from under their noses.
Will the girls be able to find the missing puppy?
Rights Sold
Czech - Albatros
English (US book clubs) - Scholastic Inc.
French (N. Amer.) - Éditions Scholastic
Selling Points
Adorable puppies on every cover.
Character education will appeal to teachers and parents
Fun puppy stories, complete with black & white interior illustrations of more cute puppies!
Collectible series books are in high demand with girls of this age group.