The Duck Says
by Troy Wilson, illustrated by Mike Boldt
ISBN 9781443128698 Hardcover
32 Pages | 10.28" x 10.27" | Ages 3 to 8
See an excerpt

The duck says, Read this book!
Follow the duck in this madcap romp around the farmyard, which will have kids delighting in his clueless antics and witty wordplay.
Bouncing rhymes are perfectly paired with colourful, exuberant art full of visual gags that will have readers laughing along and anticipating what will happen next.
A little absurd, a lot slapstick, and all good fun, this is one to keep within arms reach at storytime.
Excerpt: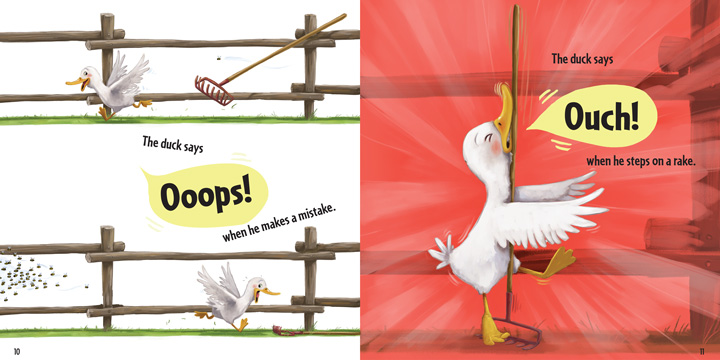 Praise for Troy Wilsons Perfect Man:
An inspirational story with sly humour. Macleans
A wonderful story about finding your own voice and those special people who make a difference in our lives.BC Parent
Praise for Mike Boldt:
Giggle-inducing, lively fun. The National Reading Campaign (for Ode to Underwear)
Mike Boldts detailed oil illustrations offer plenty of laughs . . .This funny riff on familiar characters and songs hits all the right notes.Quill & Quire (for Little Jack Horner, Live From the Corner)
Awards
Commended, Best Books for Kids and Teens, Canadian Children's Book Centre, Starred Selection, 2015
Commended, Resource Links, Best of the Year, 2015
Rights Sold
English (US) - Scholastic Inc.
French (N. Amer.) - Éditions Scholastic
Selling Points
A funny story, with a cute character!
Similar in style to Mo Willems popular Pigeon books
Mike Boldt's great, vibrant illustrations are so appealing.
Clever wordplay makes for an entertaining read-aloud.