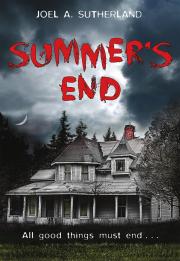 Summer's End
ISBN 9781443139311 Paperback
ISBN 9781443139328 Ebook
272 Pages | 5.25" x 7.61" | Ages 9 to 12
See an excerpt



Jacob pulled his hand out of the pocket and held it up to his face. His eyes went wide and his breath latched in his throat.
His hand was coated in blood.
It's the last summer before high school. Four friends, Jacob, Ichiro, Hannah and Hayden, vow to make it epic — one to remember. But when they discover an abandoned house on a forgotten island, their fun takes a dark turn. Terrified by what they learn about the house called Summer's End, but unable to resist its call, they decide to camp out on the island. . . and their summer to remember turns into a nightmare they won't soon forget.
"A great premise, a cool twist, and an exciting climax . . ."
— Allan Stratton, author of The Dogs
Praise for the Haunted Canada series:
Hackmatack Non-Fiction Winner for Haunted Canada 4
Silver Birch Non-Fiction Winner for Haunted Canada 5
Awards
Short-listed, OLA Red Maple Award, Fiction, 2018
Short-listed, Snow Willow Award (Saskatchewan Young Readers' Choice), 2018
Commended, Best Books for Kids and Teens, Canadian Children's Book Centre, 2017
Extras
Rights Sold
French (N. Amer.) - Éditions Scholastic
French World excl. N. Amer. - Actes Sud
Selling Points
Chilling content that is age-appropriate for young teens.
Promotable and award-winning horror author.