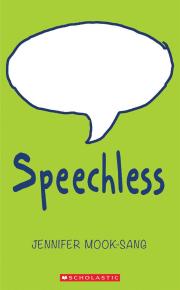 Speechless
ISBN 9781443142670 Paperback
ISBN 9781443142687 Ebook
168 Pages | 5.24" x 8.39" | Ages 9 to 12
See an excerpt

I forced my feet to the stage and turned around. This was going to be the scariest thing I'd ever done in my whole life. I looked down into the expanse of gleaming eyes and willed myself to focus on the next step ahead. I just had to make it through the next five minutes, word by word. Then it would be over.
Jelly Miles would rather be playing video games with his best friend P.B. than preparing for a speech competition. In fact, he'd rather be doing just about anything else. So he's as surprised as anyone that he's taking this year's competition seriously. At first, it's for the awesome prize. But when the competition turns ugly, Jelly realizes it's his chance to finally get the last word with the class know-it-all. With his reputation, self-respect and the friendship he values most on the line, can Jelly find the courage to get up in front of the whole school and show his true self?
Laugh-out-loud funny, Speechless is about standing up to bullying, knowing who your friends are and finding your own unique voice.
Awards
Commended, TD Summer Reading Club, 2017
Winner, Surrey Schools' Book of the Year, 2017
Short-listed, Manitoba Young Readers' Choice Award, 2017
Short-listed, Red Cedar Award (BC Young Readers' Choice), 2017
Short-listed, Langley Schools Book of the Year, 2016
Short-listed, OLA Silver Birch Award, Fiction, 2016
Short-listed, Diamond Willow Award (Saskatchewan Young Readers' Choice), 2016
Short-listed, IODE Canada Violet Downey Award, 2016
Commended, Best Books for Kids and Teens, Canadian Children's Book Centre, 2016
Commended, Resource Links, Best of the Year, 2016
Commended, OLA Best Bets, 2015
Short-listed, CBC Best Books of the Year, 2015
Extras
Rights Sold
English (Australia) - Scholastic Australia
English (NZ) - Scholastic New Zealand
English (US book clubs) -Scholastic Inc.
English (UK) - Scholastic UK
Portuguese -Melhoramentos
Turkish - Uyurgezer Kitap
Selling Points
Themes of social consciousness, bullying and friendship are deftly blended
Authentic dialogue that reflects what's important to kids at this age level
Characters are unique and the plot twists are unexpected
Laugh-out-loud funny!