Stego-cumulus
by Hilary Leung, illustrated by Niall Eccles
ISBN 9781443157537 Hardcover
32 Pages | Ages 3 to 8
See an excerpt

While clouds come and go, friends stay forever.
Parrot and Panda are good friends, but they often see the world in different ways. The one thing they always agree to do is cloud watching! But today, where Panda sees a phoenix, Parrot sees a nimbostratusus. Where Panda sees a ship on the sea, Parrot sees a cumulus formation. They separate and watch on their own for a while but soon regroup to talk about shapes, stories and science. Why should cloud watching be about one or the other? And so a Stego-cumulus is born.
Cloud watching is where daydreaming and science meet. It's a favourite childhood activity and a good reminder to be in the moment and savour the world around you. Like friendships, clouds can take on new shapes and challenge us to see the world in new ways.
Excerpt: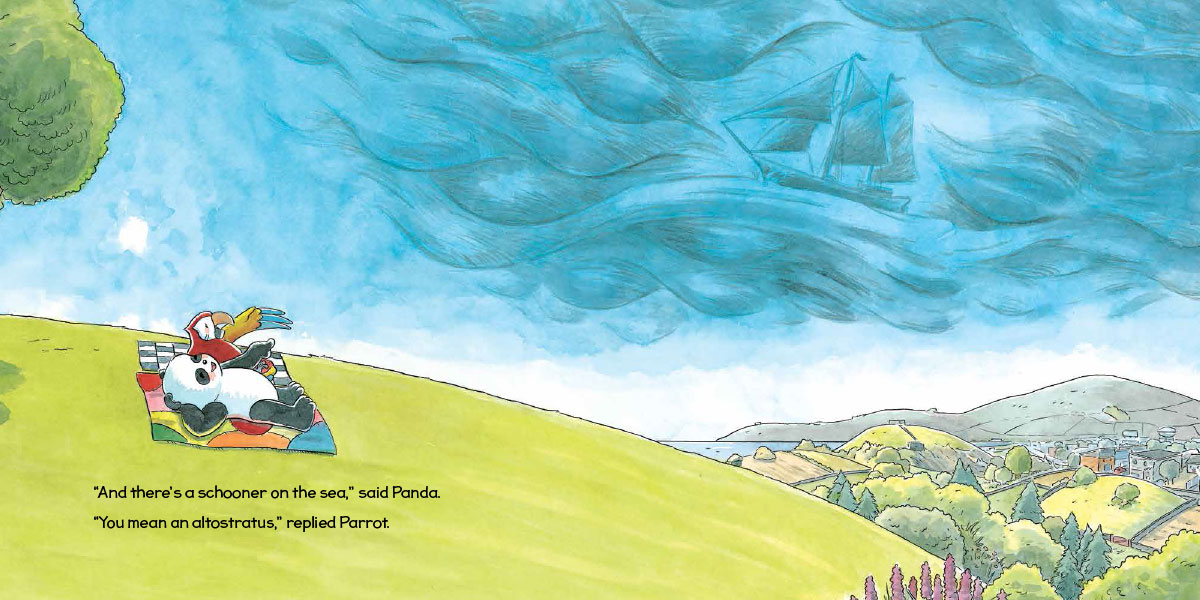 Awards
Commended, Resource Links, Best of the Year, 2018
Rights Sold
French (N. Amer.) - Éditions Scholastic
Selling Points
Clouds are the perfect gateway to science, imagination and stories.
Themes include seeing things from other points of view.
A reminder to stop and pay attention. It's good to have your head in the clouds sometimes!