Gifts
by Jo Ellen Bogart, illustrated by Barbara Reid

ISBN 9781443170086 PBK
36 Pages | Ages 3 to 8
See an excerpt


My grandma went a-travelling, said:

"What would you have me bring?"
"Not much," said I,
"Just a piece of the sky,
and a hundred songs I can sing..." Grandma is taking a trip around the world, and she's bringing back wonderful gifts for everyone!

Excerpt: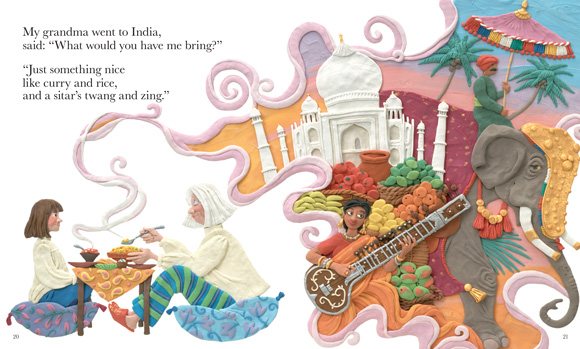 "... a cheerful and poignant evocation of the bond between the old and the young, and the special gifts of shared experience." —Today's Parent

"Barbara Reid's plasticine art is absolutely magical... Jo Ellen Bogart's lyrical, rhyming text is full of love and wonder. — The London Free Press "A real delight." — The Vancouver Sun

Excerpt: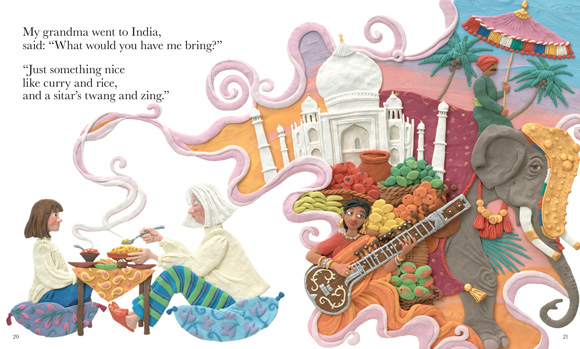 Awards
Commended, IBBY International Honour List, Illustration, 1995
Commended, Canadian Children's Book Centre, Our Choice, 1995
Short-listed, Ruth and Sylvia Schwartz Award, 1995
Short-listed, Mr. Christie's Book Award, 1995
Short-listed, Dimensional Illustrators Award, 1995
Winner, Amelia Frances Howard-Gibbon Illustrator's Award, 1995
Commended, Canadian Materials Best of the Year list , 1994
Commended, Canadian Bookseller's Fall selections , 1994
Rights Sold
Arabic - Nahdet Misr
Chinese Simplified - Huaxia
Korean - Sakyejul
Portuguese - Caramelo
Spanish - Everest
Selling Points
The best gifts, such as stories and experiences, are intangible!
Focus on building community, in contrast to fueling consumerism.
Celebrating 25 years in print!