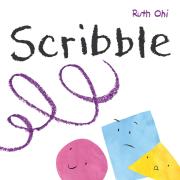 Scribble
by Ruth Ohi
ISBN 9781443146661 Paperback
ISBN 9781443146654 Hardcover
Pages | 9.500" x 9.538" | Ages 3 to 8
"Do you want to play?" said Scribble.
It's an irresistible invitation to explore creativity, imagination and friendship!
Circle loves to roll — around and around. Solid Square likes to sit still and strong. Triangle can celebrate all her good points, and always knows which direction to go. But when Scribble suddenly dashes through their ordered world — all messy lines and energy — Circle, Square and Triangle don't know what to think.
But turns out just a zig zag here and a wavy line there are all that's needed to stir imaginations, and soon the shapes find themselves working as a team, on a course for adventure!
Award-winning author and illustrator Ruth Ohi's energetic art shows young readers that anything is possible with a splash of colour and the most basic shapes. This wonderful picture book will spark creativity, and encourage young minds to identify and draw the Circle-Square-Triangle-Scribbles in their worlds too!
Awards
Commended, Best Books for Kids and Teens, Canadian Children's Book Centre, 2016
Commended, Resource Links, Best of the Year, 2016
Extras
Rights Sold
Chinese Simplified - Buma
English (Australia) - Scholastic Australia
English (New Zealand) - Scholastic New Zealand
French (N. Amer.) - Éditions Scholastic
Turkish - Arkadas
Korean - Hansol Education
Selling Points
Ohi is one of Canada's premier children's book creators.
Encourages creativity in a fun, down-to-earth way.
Features themes of individuality, friendship, empathy and playing together.
Adorable endpapers offer an invitation to play!