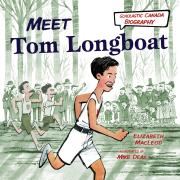 Scholastic Canada Biography: Meet Tom Longboat
by Elizabeth MacLeod, illustrated by Mike Deas
ISBN 9781443163910 Hardcover
32 Pages | Ages 6 to 10
See an excerpt

Meet Tom Longboat, world-famous Onondaga runner who broke both records and stereotypes.

On a cold and windy April day in 1907, Tom Longboat beat a crowd of top runners to win the famous Boston Marathon. His exhilarating, record-breaking performances earned him legions of fans in Canada and around the world. But there is more to his story than being a famous athlete. Tom volunteered and bravely served in WWI. He was dedicated to his family and community. Tom didn't always win, but he always worked hard with his head held high. Tom did things the way he knew was right . . . and achieved success on his own terms.
Praise for Scholastic Canada Biography:
"The story is fast paced, with dramatic, emotion-filled scenes.Highly recommended." (Meet Viola Desmond) —CM.
Awards
Commended, TD Summer Reading Club - Top 10 Recommended Read, 2020
Short-listed, OLA Silver Birch Express Award, 2019
Commended, OLA Best Bets, 2019
Extras
Rights Sold
French (N. Amer.) - Éditions Scholastic
Selling Points
This lively and colourful new biography series is unlike anything available!
A great introduction to larger issues.
Tom Longboat's story invites reflection on our treatment of Indigenous peoples.