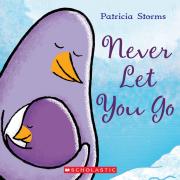 Never Let You Go
ISBN 9781443157339 Board book
ISBN 9781443119894 Paperback
30 Pages | 6.76" x 6.75" | Ages 0 to 4
See an excerpt

Now available in board book format!
In this tender, funny book, an adorable penguin learns that Mom or Dad "will never let you go" . . . except when it is time to let you go. Safely assured by the steadfast love of a parent, the little penguin can begin to explore its world bit by bit — draw a picture, chase the stars, even throw a tantrum — secure in the knowledge that a doting parent is always waiting in the wings.
Gently affirming, this book is the perfect addition to a nursery and toddler bookshelf, as it gives voice to all of the sweet sentiments parents wish to share, as their babies take their first big steps on the path of growing up.
Excerpt: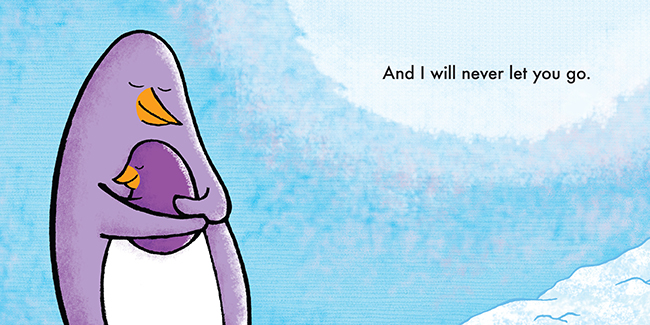 Praise for Never Let You Go:
An Ontario Library Association's Best Bets of Canadian Literature for Children and Teens
"Wry humour imbues both text and art, ably displaying the parent's unremitting connection to the child alongside its recognition that the youngster must be allowed room to grow."—Quill & Quire
"This is a cuddle-up-and-read book that is sure to evoke laughter and hugs." —National Reading Campaign
"[It] balances a parent's desire to keep children close with a gentle reminder to also let them chase the stars. A perfect present for any new little penguin."—CM: Canadian Review of Materials
"A very reassuring message of love . . . This is an excellent book to share with toddlers and preschoolers."—Resource Links
Awards
Commended, OLA Best Bets, 2013
Commended, Resource Links, Best of the Year, 2013
Rights Sold
English (Asia) - Scholastic Asia
English (Australia) - Scholastic Australia
English (NZ) - Scholastic New Zealand
English (US) - Sky Pony Press
Chinese Simplified - Iguoshi
French (N. Amer.) - Éditions Scholastic
Korean - Awesome World
Portugese - Fundamento
Selling Points
There is no gender determination in the story (penguin daddies take care of their young) and can be cross-promoted for Mother's Day and Father's Day
Tender as a classic like Guess How Much I Love You, but with a smart and modern feel like Grumpy Bird.
Makes a great baby shower gift, Valentine's Day token, or special treasure for a child heading off to daycare or Kindergarten.