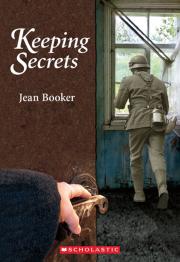 Keeping Secrets
by Jean Booker
ISBN 9781443124591 Ebook
ISBN 9781443102346 Paperback
160 Pages | Ages 9 to 12
See an excerpt

During WWII, a young girl learns a lesson about humanity and kindness that extends past enemy lines.
Ellen's life changes dramatically as the effects of war reach the British countryside where she lives. Rationing food and dealing with constant air raids is awful... but things get even worse when her beloved father gets injured and is taken to the hospital in another town. Ellen is left alone so that her mother can take care of him, and has to make very big decisions for a young girl. When a bomb leaves her trapped under a decaying building, she finds herself alone in the rubble with Carl, an escaped German airman! While waiting to be rescued, Ellen is surprised to find that the enemy is not at all what she thought he'd be.
Will Ellen do what she is supposed to and tell someone about Carl, or stay silent and give him a chance at freedom?
Awards
Commended, Best Books for Kids and Teens, Canadian Children's Book Centre, 2012
Short-listed, Geoffrey Bilson Award for Historical Fiction for Young People, 1995
Commended, Canadian Children's Book Centre, Our Choice, 1995
Rights Sold
Japanese - Bunken Shuppan