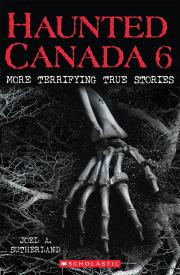 Haunted Canada 6: More Terrifying True Stories
ISBN 9781443148788 Paperback
ISBN 9781443148795 Ebook
128 Pages | Ages 9 to 12
See an excerpt


The sixth book in the bestselling series of hauntingly true Canadian stories —back, and scarier than ever!

Her skin was peeling off her skull. Holes covered her nose and cheeks, revealing bone and teeth. Her flesh was rotten and grey. But worst of all were the thing's eyes. Staring down at him with venom were two deep pools of darkness.

"You heard me when I cried, pleaded and screamed for help," she hissed, "but you and your kind ignored my pleas. Because of you and your superstitious ways, I died a horrible death in that swamp. Now I have come back to avenge my own death!"

These terrifying true stories from across Canada will keep you up at night. A supernatural sea hag haunts an eerie marsh, a used book conjures up a ghostly figure, phantom hands terrorize children in a school playground . . . Prepare to be haunted!
Awards
Short-listed, Hackmatack Children's Choice Award (Atlantic Canada), 2018
Winner, OLA Silver Birch Award, Non-Fiction, 2017
Extras