Give Me Back My Dad!
by Robert Munsch, illustrated by Michael Martchenko
ISBN 9781443107648 Paperback
ISBN 9781443107631 Hardcover
32 Pages | 8.01" x 10.01" | Ages 3 to 8
See an excerpt

After almost 170,000 votes tallied, here's the winning story of our Pick-A-Munsch contest!
In Fall 2010, Scholastic Canada launched a promotion that allowed young readers to help select the story by Robert Munsch to be published as his 30th book with Scholastic Canada. After close to 170,000 votes tallied, the fans have spoken — here are the details of the winning story:
Cheryl and her dad go ice fishing, but it turns out that the fish are pretty smart. They are trying to catch the people right back! In the end, Cheryl and her father bring home something really good . . . and it's not a fish at all!
This story was inspired by a young girl in Rigolet, Labrador. Twenty years ago Robert Munsch went ice fishing with a girl named Cheryl and her father, and this story was born. He has performed it live for many years now, but it has never appeared in book form before. Scholastic Canada is proud to bring this wonderful, whimsical tale to young readers everywhere!
Excerpt: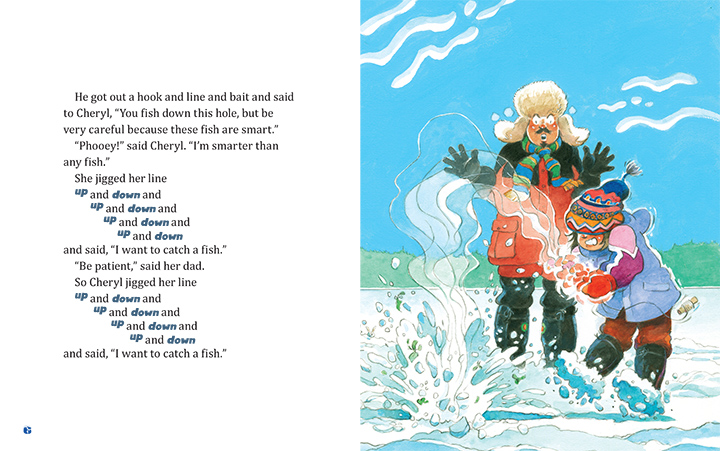 Awards
Commended, Best Books for Kids and Teens, Canadian Children's Book Centre, 2012
Extras
Rights Sold
Chinese Simplified - Beijing Baby Cube
English (US clubs) - Scholastic Inc.
French (N. Amer.) - Éditions Scholastic
Korean - Book Story
Inuktitut - Katimavik School Board
Selling Points
Winner of the nation-wide Pick-a-Munsch contest, celebrating Munsch's 30th book with Scholastic. The kid in this book lives in the tiny fishing hamlet of Rigolet, Labrador.
Munsch and Martchenko are an unbeatable team who have withstood the test of time and made their way into the hearts of adults and kids alike.