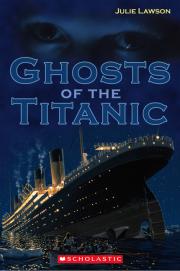 Ghosts of the Titanic
by Julie Lawson
ISBN 9781443100410 Paperback
208 Pages | 5" x 7.76" | Ages 9 to 12
See an excerpt

A teenage boy finds himself caught up in a century-old mystery - aboard the Titanic!
Kevin and his family are enroute to Halifax to check out a house they have mysteriously inherited from a man named Angus Seaton - mysterious because none of them have any clue who he was or why they would be named in his will.
While at the house, Kevin does his own investigating and discovers some old artifacts hidden behind a wall, including enigmatic photographs dating back to 1911, which show a young woman and her baby.
This puzzling discovery leads to troubling dreams for Kevin - haunting dreams and a voice that plagues him, a voice he cannot escape. Someone - somehwere - needs his help. One night he tries to answer the call, and finds himself in another reality, another time, in a flooded corridor...
... aboard the ship Titanic.
In this ghostly new mystery by award-winning writer Julie Lawson, the terror, anxiety and reality of the sinking of the Titanic comes to life, as a teenage boy tries to right the wrongs of the past... and put some troubled souls to rest.
Awards
Winner, Chocolate Lily Book Award (BC Children's Choice), 2013
Short-listed, Diamond Willow Award (Saskatchewan Young Readers' Choice), 2012
Short-listed, OLA Silver Birch Award, Fiction, 2012
Commended, Best Books for Kids and Teens, Canadian Children's Book Centre, 2012
Rights Sold
English (US) - Holiday House
English (NZ) - Scholastic New Zealand
Hebrew - Dani
Selling Points
Titanic books are always popular and the100th anniversary was a recent milestone.
Contemporary ghost story, using a gripping historical element as a backdrop.
The time-shift, ghost-haunting element gives this story lots of intrigue!
A fantastic, gripping cover and an author with strong name recognition and many awards.