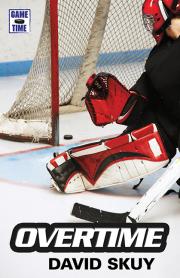 Game Time: Overtime
by David Skuy
ISBN 9781443119832 Ebook
ISBN 9781443107983 Paperback
240 Pages | Ages 10 to 14
See an excerpt

Teenage hockey player Charlie Joyce is facing a new school year, and a whole new set of problems — both on and off the ice.
The year has barely begun when Charlie finds out his school is in jeopardy because of some damage to the building. Under threat of being separated and bussed to different high schools, Charlie and friends leap into action to raise some money and keep their high school (and hockey team!) intact.
Using all of their skills, they cook up as many fundraising events as they can — until one day a gift comes to them in the form of a hockey tournament with a $5000 prize. Charlie is ecstatic to get his team on the ice — until he realizes that their line-up must be co-ed to compete.
It's a whole new lesson in good sportsmanship at Terrence Falls High School. Can they pull it off and save their school?
Rights Sold
French World - Éditions Hurtubise
Selling Points
Sports and kids are a big draw: the competition, the challenges, the friendships and the rivalries!
Fast-paced, easy-to-read story with all the action thockey fans crave.
A good next step for readers of the Slapshots and Screech Owls series.