Fox and Squirrel
by Ruth Ohi
ISBN 9781443119146 Hardcover
32 Pages | 9.76" x 9.79" | Ages 2 to 7
See an excerpt

A big friendship triumphs over small differences in this irresistible story from the author and illustrator of Chicken, Pig, Cow!
When Fox and Squirrel get together, Squirrel can only see their differences. Squirrel is small and Fox is big; Squirrel lives in a nest and Fox in a burrow; Squirrel likes the day and Fox, the night. But as their friendship grows, Fox gently points out that their differences are good, and more than that, they have many things in common too. Even Squirrel begins to see that maybe they are not so different after all!
This irresistible story about the adventures of two lovable friends is told through expressive watercolour illustrations full of energy, humour, and warmth. The simple text and joyful art deliver a heartwarming tale with a subtle but profound message about friendship, acceptance, and working together.
Excerpt: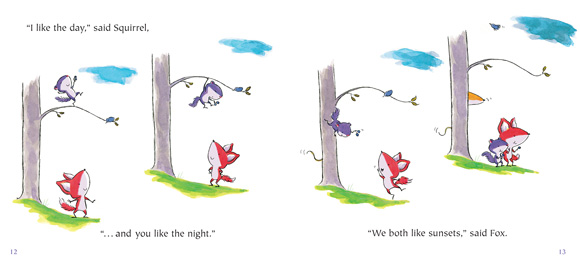 Praise for Ruth Ohi:
*"As always, Ohi's warm watercolours bring her subjects to life. Her prose is spare and evocative, full of simple sentences that pack in loads of humour, warmth, and character." —Quill & Quire, starred review (for Chicken, Pig, Cow and the Purple Problem)
"A tender tale for the very small told via generous amounts of vibrant watercolour daubed over double pages and a perfect economy of words." —The Globe and Mail (for Chicken, Pig, Cow on the Move)
"Profound in its simplicity, this story has it all: a dab of magic, a spirit of adventure, suspense, resolution and a comforting and satisfying end." —Canadian Children's Book News (for Chicken, Pig, Cow)
Awards
Short-listed, Shining Willow Award (Saskatchewan Young Readers' Choice), 2015
Short-listed, Marilyn Baillie Picture Book Award, 2014
Commended, Best Books for Kids and Teens, Canadian Children's Book Centre, 2014
Extras
Rights Sold
English (Asia) - Scholastic Asia
English (Australia) - Scholastic Australia
Chinese Simplified - Henan Tianxing
Dutch - Memphis Belle
English (US clubs) - Scholastic Inc.
French (N. Amer.) - Éditions Scholastic
Korean - JEI Corp
Turkish - Arkadas
Selling Points
Ruth Ohi is one of Canada's premier illustrators and writers for kids.
Ohi is a very effective promoter and is active in the school and library circuits.
The themes of tolerance and acceptance are timely and handled perfectly for the age group.
Kids will love the energy and joy in these irresistible new characters, Squirrel and Fox.